Posted by
JoAnn M. Drabble
on
2/8/2019
1. Carabiners Indoor Rock Climbing (website) – Rock climbing can be fun date. Since opening in 2004, Carabiners has been offering New Bedford residents a fun way to exercise. It also provides a great venue for an active date.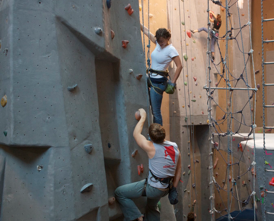 2. Ice Skating – Ice skating can be a fun, romantic time. The only problem is Hetland Ice Skating Rink in New Bedford (310 Hathaway Blvd, 508-999-9051) is only open to the public from 12:30 to 2:30pm on 14 February. If you are having a lunch date this may be the place for you.
3. Couples Massage – You can't go wrong with a couples massage. The best location for a couple massage is Gloria and Company on 211 Alden Road in Fairhaven.

4. Charter a Flight! - Charter flights are available from the New Bedford Regional Airport! Air charter offers passengers the ability to visit any number of destinations across the country, and beyond!
Presently, SpectaculAir provides air charter service from New Bedford Regional Airport. SpectaculAir operates a satellite office at Nor East Aviation Services (a Fixed Base Operator at EWB) and bases multiple aircraft at the airport seasonally. As of now, SpectaculAir serves mainly New England and New York, but they have the ability fly further, so if you have an air charter need, they are the ones to ask!
To learn more about air charter options, contact Herb at SpectaculAir via phone at 1-508-292-5466 or email at flyspectaculair@gmail.com.